HOW RED LIGHT THERAPY WORKS ?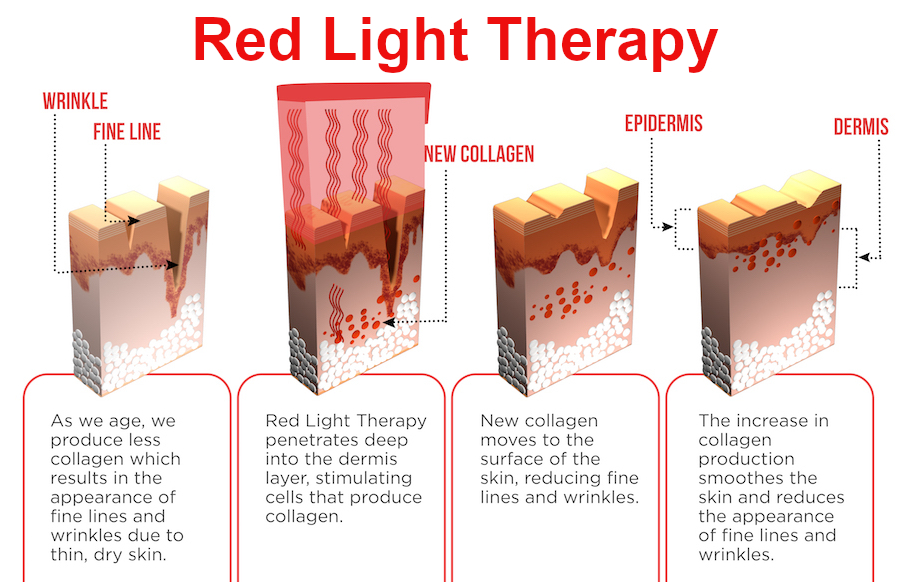 100% NATURAL – SKIN REJUVENATION & REPAIR
What Is The Red Light Therapy?
Been Extensively Researched And Used By Nasa, National Institutes Of Health… It Has Been Found To Be Effective At Repairing Damaged Skin, Treating Depression, Relieving Pain, Treating Wounds, Killing Bacteria… Red Light TheraRed Light Therapy Is A Safe All Natural Process With Zero Side Effects That Stimulates Fibroblast Cells Which Boost The Production Of Collagen And Elastin Proteins. Infrared Light Technology Has py Is Also Used In Eastern Medicine Practices Which Focus On The Energy Systems Of The Body, Specifically Meridian Points And Chakra Zones. Red Light Energy Penetrate Deep Into The Body, It Also Have The Rejuvenating, Healing And Balancing Effects.
How Red Light Therapy Works !
Visible Red Light Is Capable Of Penetrating The Skin To A Depth Of About 8 To 10 Mm. Once Absorbed, The Light Energy Is Converted To Cellular Energy, Stimulating The Body's Natural Processes On A Cellular Level And Kicking Off A Whole Series Of Metabolic Events, Including:
Increased Circulation And The Formation Of New Capillaries
Increased Lymph System Activity
Increased Production Of Collagen And Fibroblasts
Increased Release Of Raw Cellular Energy
Increased Cellular Clean Up
Tissue Granulation Stimulated
Inflammation Reduced
All Of These Things Work Together To Produce Many Benefits For You In The Areas Of Anti-Aging, The Healing Of Injuries, And The Relief Of Pain.
Benefits Of The Red Light Therapy
100% Natural
Drug Free
Chemical Free
Non-Invasive (No Needles Or Knives)
Non-Ablative (Does Not Damage The Skin)
Painless (Does Not Itch, Burn Or Sting)
Requires Zero Downtime
Safe For All Skin Types
Safe For All Ages
No Adverse Short Or Long Term Side Effects
100% Tan Tax Free And Red Light Emits ZERO UV Light And Will NOT Tan You
FDA Approved
The Benefits For Your Skin
Red Light Therapy Creates A Healthy Glow About Your Face
Smooths Overall Skin Tone
Builds Collagen, Reducing Wrinkles, Including Crow's Feet, Under Eye Wrinkles, Forehead Wrinkles & Laugh Lines
Speeds The Healing Of Blemishes, Like Acne And Rosacea
Repairs Sun Damage
Reduces Redness, Flushing, And Broken Capillaries
Fades Scars And Stretch Marks
Brings More Moisture To Your Skin
Prevents Hair Loss & Stimulates Regrowth
Treats A Growing List Of Skin Conditions
Use These Benefits For Your
Acne, Bruises, Burns (Minor), Collagen Production, Cuts & Scrapes, Dry Skin, Hair Loss, Psoriasis, Red Marks From Acne, Stretch Marks, Rosacea, Scars, Sun Damage, Wound Care, Wrinkles, Uneven Skintone
The Benefits For Injuries & Pain
Speeds The Healing Of Wounds And Injuries To The Body, Reduces Inflammation And Pain…
Use these Red Light Therapy benefits for you
Arthritis, Back Pain, Bone Breaks, Sciatica, Shoulder Pain, Sprains, Surgical Wounds, Torn Ligaments, Tendonitis…
Preparing For Red Light Therapy
To Maximize Skin Rejuvenation, We Recommend:
Wearing No Make-Up Or Moisturizers
Weekly Exfoliation For Better Light Penetration
Using Moisturizer Creme After Your Session.
For Pain Management, Follow Up With Range Of Motion Exercises And Light Stretching.
Results
Initial Results (First 4 Weeks) : Initially You'll Notice Fine Lines Start To Diminish, Your Skin Will Have A Much Smoother Feeling To It, Pigmentation Of The Skin Will Start To Even Out, And Any Blemishes Or Acne Will Start Diminishing.
Long Term Results (4-12 Weeks) : Over Time Improved Oxygenation And Detoxification Of The Skin Is Achieved As The Vascular Walls Of The Skin's Small Blood Vessels Are Strengthened, Followed By Improved Natural Repair And Creation Of Healthy Skin. Overall Improving The Skin's Underlying Supportive Structure And Making You Look And Feel Years Younger!
Recommended Red Light Therapy Session Lengths
1-4 Weeks: 3-4 Times A Week
4-12 Weeks: Twice a Week
12+ Weeks: Twice a Month